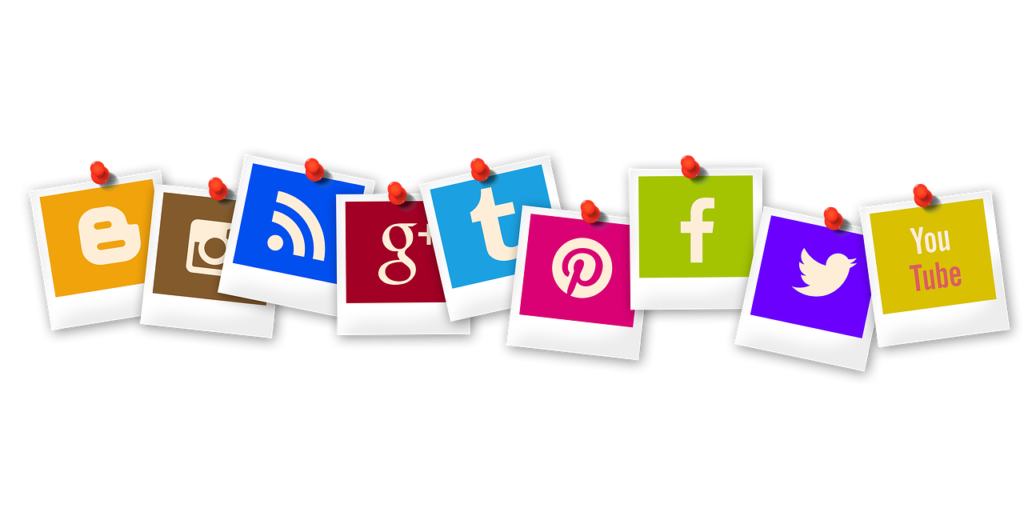 What is social media and it's part in business?
Social media is a broad term and can be defined differently. But basically social media is a set of tools, which helps people communicate with each other by sharing and consuming information.
Nowadays social media makes a significant impact on the development of business. It helps to gain valuable customer insights, increase brand awareness and loyalty, run targeted ads with real-time results, generate higher converting leads, provide rich customer experiences, increase website traffic and search ranking, find out what your competitors are doing, share content faster and easier, geotarget content, build relationships and do many other useful things.
You can watch a video, which explains why business needs social media.
Video provided by Birgit Smit
With the help of the following research study you will take a closer look on how social media really impacts business.
Introduction
The overall objective of the research project will be to analyze the impact of Social Media on business. The research methodology is going to rely on social media platforms such as Facebook, Twitter, Linkedln and WhatSap. The paper will seek to look at various businesses that rely on social media and other that do not rely on social media and analyze its benefits.
Locale of the Study
The study is going to be conducted on online platforms and will involve a lot of online data mining on the different companies that rely on social media as part of their overall marketing models. Hence, access to these businesses' websites will be crucial to offer access to the required data.
Variable Specification
The data for the research will incorporate different variable that includes: being a quantitative research case, correlational research methods are going to be integrated to show the extent to which incorporation of social media affects a business' gains. This is going to be backed by a causal-comparative to establish the cause-effect relation between the two variables.
Social Media (s) ~ Independent Variable
Business Yields (Y) ~ Dependent Variable
Hence, the regression model is:
Y = a + p s + p2.
a and p are the model's coefficients.
p s is the coefficient for Social media impact.
P 2 is the coefficient for any other marketing variables.
Data Collection and Instrument
Interview schedule
An interview schedule was prepared in English and translated into several other languages such as German, French and Italian. The schedule was purposely presented to business representatives that rely on Social Media as a marketing tool. It included three parts namely: knowledge of Social Media marketing, statistics sources on Social Media, literacy and socio-demographics.
Questionnaire Pretesting:
Preceding the field task, the interview plan was pretested amid representatives who have the same qualifications as the actual study representatives. The pretest intended to confirm that the problems can be understood and properly responded. Any part of the questionnaire, which the representatives could comprehend was altered.
Focus Group Discussion
To back the data that were collected from the questionnaires, a focus group discussion (FGD) was piloted in different social media platforms. There were different contributors in the focus group discussion. Enquiries raised in the FGD revolved around contributors' understanding of Social Media as a promotional strategy. Respondents were requested to explain the social media impact on businesses as an advertising instrument for the innumerable businesses'. They were also requested to give their remarks or propositions on how the Social Media marketing could be better enhanced to improve business' yields.
Data Analysis
The data was encoded and analyzed through its various regression and correlation techniques. Correlation methods such as the Pearson correlation and Spearman's rho were applied to show the relationship between the representatives', the sum of data sources on Social Media application, mastery and their understanding of Social Media as a promotion tool. The mean, F-statistics and adjusted R were also used as measures to show social media impact on business as a marketing strategy. This was carried out with the aid of statistical software such as SPSS, Excel and E-View.
Limitations of the Data Collection/Analysis
Inadequate access to various business representatives to undertake the interview schedules.
Limited time to sieve through the data available on the various social media platforms.
Language barrier among the various respondents across the different social media platforms.
What Does the Future Hold for Social Media and Business?
As we know it's difficult to predict anything exactly, but one thing we can say about the future of social media and it's impact on business, is that these two spheres will probably be more mutually dependent and information will become a stronger trend.
References:
BCPS.Org. (2016). Planning the Methodology – The Quantitative Pathway. Develop a Research
Proposal. Retrieved March 5, 2016, from <https://www.bcps.Org/offices/lis/researchcourse/develop_writing_method_quantitative.html>
USC libraries. (2016). Organizing Your Social Sciences Research Paper: 6. The Methodology.
Research Guide. Retrieved March 5, 2016, from <http://libguides.usc.edu/writingguide/methodology>
Yeditepe University. (2015). Research Methodology. Writing Centre. Retrieved March 5, 2016,
from <https://yuwritingcenter.wikispaces.com/How+to+Write+the+Methodology+of+a+Research+Paper>